advertisement

Book Review: 'I Am a Salmon' by Rick Ramsey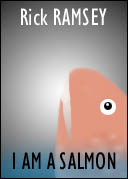 I Am a Salmon
Ramsey, Rick
RRamsey Books, Inc.
$29.95 (hardbound)
$12.95 (softbound)
$2.95 (sticky pages)
A gripping novel of suspense and poignancy that follows the short, bitter life of Ted, a coho salmon who is accidentally released, not into the wild, but into a bowl of White Lightning whiskey after a raucous party at the United States Geological Service. Ted's adventures take him from Colorado's Durango River Canyon to Iquitos, Peru, where he helps save ancestral tribal lands from clear-cutting developers before being served in a delicious butter-and-viniagrette sauce, with a side of potatoes.

On the way, Ted gets involved in a hilarious case of mistaken identity when he is mixed up with a walleye pike who has been stuffed with half a million dollars' worth of cocaine. As a result, Ted must elude a corps of scaler-toting Mafiosi, police from eleven nations, and Elton John -- not to mention Daphne, a free-spirited mackerel who'll do anything to hook her man, even if she's the bait!

The book is reminiscent of I Am a Camera, Christopher Isherwood's celebrated memorial of pre-war Berlin, as well as Natsume Soseki's classic I Am a Cat, in that the titles are passingly similar. Readers may also be reminded of Jim Carroll's The Basketball Diaries, although Mr. Ramsey admits that he is neither a heroin addict nor capable of hitting a baseline jumper from the left side.

Mr. Ramsey, whose other books include Tuesday Afternoons with Tuna, Trout Fishing in Peru, A Farewell to Fins and For Christ's Sake Buy This Friggin' Book You Cheapskates, Do You Want to Spend Your Whole Lives Waiting for Downloads, works full-time as a transient.
WHAT OTHER AMAZOID.COM READERS SAY ABOUT THIS BOOK:
"God, this is good. He must be gay. Anything good is gay."


- Larry Kramer, noted public homosexual, New York City

"A wake-up call to anyone in America who is asleep and may be late for work."


-- Noam Chomsky, Cambridge, Massachusetts

"The finest work of fiction in English since 11:30."


-- Clive James, London, England

"A really wonderful book, although some of the spawning scenes may be a bit too graphic for children."


-- Isaak Walton, London, England

"Well, I hated it. I really hated it. I think a book should be about something other than this stupid fish who's embarrassed to pee in the river. I mean, how stupid is that! Why can't they write books about nice things, like that ling cod in New Jersey who learned to paint even though he was born with hands and legs in the place of flippers."


-- H. Munro, Baton Rouge, LA

"mnk krzz zz kz t"


-- Dr. Stephen Hawking (low battery)

"I loved this book so much that I downloaded the whole thing and masturbated obsessively over it."


-- J. Morgan, Raleigh, NC

"Whoops. I was thinking of 'hot oriental teen nympho nurse butt-babes.' Sorry."


-- J. Morgan, Raleigh, NC