[From the October 15, 1995 edition of the Santa Cruz County Sentinel]


SC Man's Retirement Is Anything But Retiring

by Tracy L. Barnett
Sentinel Staff Writer


Since his retirement in 1982, Bill Burtch of Santa Cruz has seen more of the world than most people see in a lifetime.

He's taken about 20 trips to Central America, Mexico, and Cuba. He's come to the aid of the wounded in the war-torn mountains of Nicaragua. He's defied US laws against travel to Cuba. He's traveled through war zones in the dead of night.

And he's seen much of it from the driver's seat of a truck.

Burtch, a peace activist who has repeatedly risked his life in his many voyages to this hemisphere's hot spots, has helped raise money to buy items ranging from an ambulance to a mobile dental clinic. He's donated thousands of his own dollars -- not counting the money and equipment and the seven passports he's lost on the road -- and he's delivered everything from food and blankets to baseball equipment.

Burtch returned in September from a month-long sojourn to Chiapas with the Pastors for Peace caravan. Now he's preparing for his next trip later this month, in which he'll drive a 350 Econoline loaded with donated clothing, medical and school supplies to Santa Cruz's sister city, Jinotepe, Nicaragua.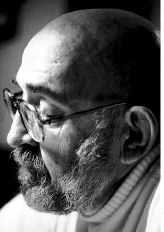 Burtch isn't fazed in the least by his regular rendezvous with danger. It's the confrontations closer to home that intimidate him.

"The only time I feel really insecure is when people challenge me on this: 'What the hell are you doing supporting these communists?'

"These are good, solid, middle-class people, and they only know what they read in the newspapers -- which isn't a whole hell of a lot."


Logging the Miles
Burtch has logged so many miles that his son Matt jokingly calls him "Ironbutt."

And the miles have not been easy. He claims that the most life threatening of his hair-raising treks was not up into the Contra zone of Nicaragua but through the hairpin turns of the mountain country of Oaxaca, Mexico, late one night when he found himself in the middle of a downpour and discovered that the '67 Chevy pickup he was driving had no wipers.

"That's where I risked my life -- forget about the Contras," he says with a laugh.

It's that tendency to laugh in the face of danger that has made Burtch a beloved hero among friends and fellow "caravanistas" throughout the Americas.

Burtch sometimes wears a T-shirt designed by his son Matt that sums up his colorful experiences as a charity courier.

A mechanic peers into the engine of an old truck and says, "Here's your problem, sir. There's a passport stuck in the transmission." Burtch may have set the world's record for lost passports. And with the variety of rattletrap vehicles he's delivered to Chiapas, El Salvador, and Nicaragua, it's a wonder he's always arrived with no worse than transmission trouble.

One passport was stolen from a pouch under his clothing as he slept on a Nicaraguan bus. "They could have stolen my pants and I wouldn't have noticed," he jokes.

The perilous ride in the Chevy pickup was during the historic Santa Cruz baseball caravan of 1987, when local residents responded to a call from newspaper columnist Pat Dillon for baseball equipment for the children of El Cua, Nicaragua.


Moment's Notice
Santa Cruz physician John Isherwood had shown up in El Cua -- where an Oregon man had earlier been killed by the Contras -- and asked how he could help. The clinic director told him what the village really needed was toys and baseball equipment for the children, who were becoming alcoholics by the age of nine.

Isherwood came back and contacted Dillon. The day the column ran, Isherwood called former Santa Cruz mayor Bert Muhly about organizing a trip, and Muhly immediately gave Burtch a call.

"You want to go to Nicaragua?" Muhly asked.

"Sure -- when?" Burtch asked.

"Tomorrow," Muhly replied. Sure enough, by the next day there were three vehicles loaded with baseballs, bats, gloves, dolls and other toys -- even a life-sized stuffed lion dubbed "Oliver Casey Poindexter."

Muhly and his wife, Lois, made the trip with Burtch. Lois says she liked travelling with him because he knew the road so well.

"He's the kind of guy who'll just drop everything to do what he does down there," says Muhly, who has been a friend of Burtch's since the mid 80s. "I don't think there's any sacrifice he wouldn't make for the cause."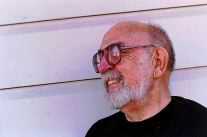 Another longtime friend agrees. "He's not a do-gooder in the traditional sense," says social worker and fellow sailor John Tuck. "His philosophy is that if you can do some good and enjoy yourself at the same time, you've got the best of both worlds. Some people enjoy themselves lying by a pool and having someone bring them martinis. Bill enjoys this."


A Man on the Go
Burtch's on-the-go lifestyle is reflected in his living quarters -- a 36-foot sloop docked in Santa Cruz harbor. Everything he owns is aboard the boat, which he takes out every Wednesday night loaded with a group of friends. Because most of his life savings is invested in the people of Central America, he had to choose between a boat and a house. He chose the boat.

Burtch traces his dedication to the poor and downtrodden of the world to his youth in Milwaukee during the Great Depression. His father died when he was three, leaving his 30-year-old mother to fend for five youngsters alone. She lived on a widow's pension and cleaned houses for a living.

The family moved once a year to get the free month's rent offered by landlords at the time. "Once we lived over a tavern, and once we lived over a roofing company. I always went to school that year smelling of tar."

He wore the castoffs of others, including the cheap shoes with yellow soles that were given away by a welfare agency.

"You could always look around the room and tell at a glance who was on welfare by the yellow soles of their shoes," Burtch recalls. "There was no hiding that I was poor."

But poverty wasn't the only thing Burtch grew up with. Milwaukee was run by a socialist mayor and city council who, as he recalls it, provided the low-income residents with enough shelter and food to survive -- better than most cities were able to do at the time.

In the day of Bob LaFollette, a Wisconsin Progressive who served in Congress, becoming a socialist was the natural thing to do, Burtch says. He joined the Young People's Socialist League in high school, became president of the socialist club at his college and volunteered for Norman Thomas, the socialist candidate for President of the United States.


Caring for Those in Need
In Nicaragua, Burtch says, he saw for the first time in the Americas a government that, like Milwaukee of the '30s, cared for those in need -- the children, the elderly and the disabled. "That really resonated with me, and it's why I fell in love with the revolution -- or at least the results of the revolution."

Burtch is not uncritical of the Marxist policies he encountered in Cuba and the formerly Sandinista Nicaragua. But he's quick to echo the words of the Cubans he visited: "Sure, we'll talk to you about human rights. But you have to recognize what we consider human rights: Food, housing, health care, education and a decent job."

He knows it's not fashionable to be a socialist in the post-Cold War era. But, he says, socialism has never really been given a chance, in the democratic context that would allow it to work.

Burtch is also unflinching in his support of the welfare system in a time of welfare reform. "Welfare is not a dirty word -- the U.S. Constitution says it's the responsibility of the government to provide for the welfare of its people," he says. "In Spanish, they use the word bienestar, or well-being."

During his sixteen years with the Santa Clara County Department of Public Welfare, he worked his way up to bureau chief before deciding to return to casework.

"I always identified with the clients more than my staff -- I was not the most popular administrator," he says. He was constantly upbraiding his staffers for their tendency to talk down to their clients.


Go to the Client
"You have to start at where the client is and go at the client's pace. Being the advice-giver, the critic, the wise guru who leads people is the surest way of making people insecure, and that doesn't help anything."

Consistent with his philosophy of putting himself in the background is his work with the Santa Cruz Coalition for Nicaragua.

"I'm not good at confrontation at a personal level," he says. "I'm not the theorist, and I'm not an orator. I'm just the one who does the scut work."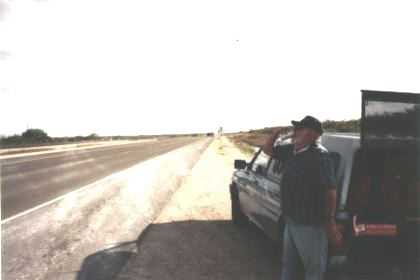 Any revolutionary worth his salt knows that the struggle for proletarian hegemony is futile
without a lucky can of Pabst -- the beer that made Milwaukee famous. Here Dad chugs a
cold one on a lonely stretch of Texas highway. (I was driving, by the way.)



---